The Sustainable Dictionary
Renewable
Products made from renewable raw materials are made from vegetable material that can grow again in nature, such as sugar cane or corn.


Residual waste
Waste that cannot be returned separately may be disposed of with the residual waste. In the Netherlands this is the gray click or garbage bag, but to choose which waste belongs to which bin, a handy
Waste separation guide
(in Dutch) is available.
Samplebook
Koen Pack has made a samplebook containing the most commonly used materials to make flower- and plant packaging. The properties of materials such as BOPP, LDPE, HDPE and PLA are described and you will find a sample to see the differences. The samplebook can be found online at
this page.
This logo is printed on packaging that must be thrown in the garbage can. It only composts after 12 weeks in a special composting machine. In practice, organic waste is only in such a machine for 1 to 2 weeks and pieces of plastic are left behind in the compost.
See also OK Compost
.
Starch
A raw material used for, for example, biodegradable covers and bags.


Waste hierarchy / Lansink's ladder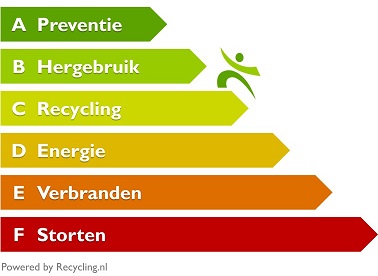 Defined in the EU Waste Framework Directive (2008/98/EC on waste). Requires that EU Member States dispose of waste according to the waste hierarchy at five levels: prevention, preparation for reuse, recycling, other recovery and disposal.