IF YOU ARE LOOKING FOR PRODUCT NEWS, PLEASE CHECK OUR NEWSLETTERS PAGE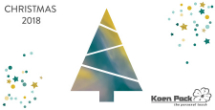 Christmas 2018
Miami - January 16, 2018
Our new Christmas assortment for 2018 is known and the sampling can begin. All new Christmas products, developed according to the latest trends, are all in our extensive Christmas leaflet of 2018. There is a suiteble item for each target group! The leaflet opens in a new window.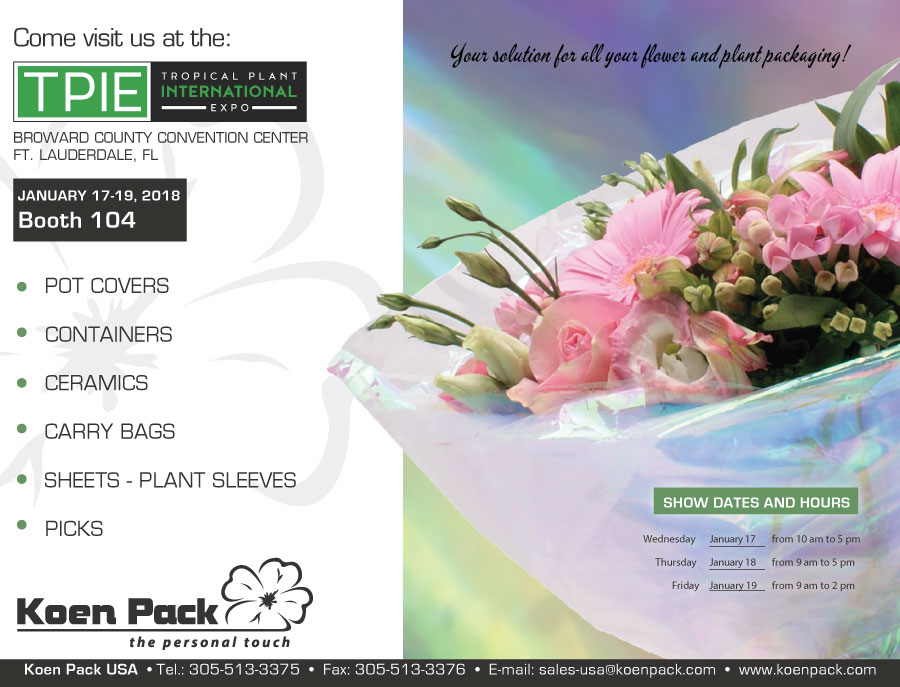 Koen Pack on TPIE
Ft. Lauderdale - January 17-19, 2018
Come visit us at the Tropical Plant International Expo at the Broward County Convention Center in Ft. Lauderdale this week! We are pleased to meet you in Booth 104. We will show our new pot covers, containers, ceramics, carry bags, sheets, flower- and plants sleeves and picks.


Happy Holidays
Miami - December 14, 2017
The management and staff at Koen Pack would like to thank you for your support in 2017.
We wish you and your family Happy Holidays and a healthy and prosperous 2018.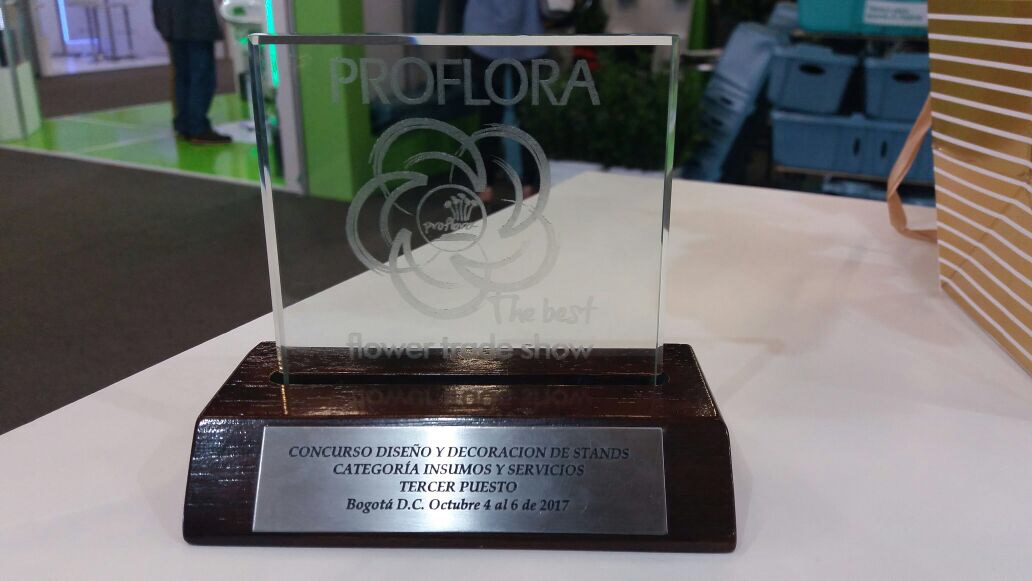 Koen Pack appoints new general manager Koen Pack USA
Bogotá – 5th of October 2017
We are very pleased that we were awarded third place on "Designing and Decorating Stand" at Proflora. The show is carried out this week, October 4th to 6th in Bogotá, Colombia. First price: Ball, first runner up in this category is Fedex.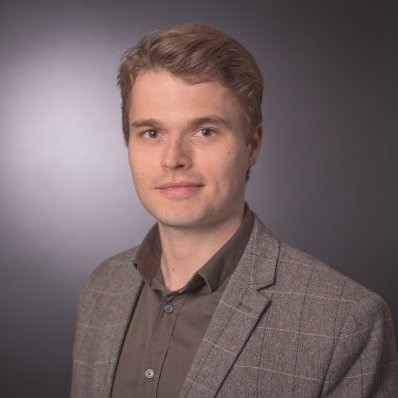 Koen Pack appoints new general manager Koen Pack USA
Miami – 1st of October 2017
Koen Pack BV of Amstelveen, the Netherlands, has promoted Pieter L. Sluiter to General Manager of Koen Pack USA in Miami, FL. In his previous role as Sales Manager since 2016, Sluiter has been instrumental in leading the company's efforts to dramatically expand market share in new and existing markets worldwide. As General Manager, Sluiter will direct all aspects of the US affiliate, reporting to company CEO Koen Broekhuizen.

Sluiter's background includes executive positions both in and out of the horticulture industry. Son of a leading Dutch conifer grower, he grew up learning every aspect of the industry first hand. Seeking to branch out, Sluiter found success managing sales and exports of consumer products companies Marcus Evans and Delinuts BV. Developing private label programs with major retailers provided Sluiter with key insights about adding value through packaging.

"Koen Pack's dedication to help our clients grow their business by incorporating innovative packaging concepts and products is unrivaled. Pieter's impressive track record, broad international experience, and deep knowledge base make him the ideal candidate for presiding over the continued strong growth of Koen Pack USA" says Broekhuizen.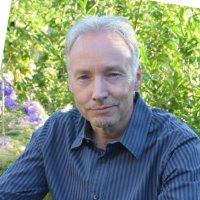 Jeroen Logtenberg joins PMA Floral Council in October
Miami – 26th September 2017
We congratulate our colleague Jeroen D. Logtenberg, Key Account Manager USA, Colombia and Ecuador to be selected by the chairs of the PMA Floral Council to join them as a volunteer leader.
Produce Marketing Association (PMA) is a trade organization representing companies from every segment of the global fresh produce and floral supply chain. As a Floral Council member, Jeroen will share his experience and expertise. He will also offer his input and solutions to keep our ever-changing industry moving forward.
"I'm very excited to be selected to serve on the PMA Floral Council. I have tremendous respect for the role of the PMA in our industry, and the value it creates for its members. I'm looking forward to contribute to this great organization", Jeroen said.

Valentine's Day 2018
Miami – 12th September 2017
Our new Valentine assortment for 2018 is known and the sampling can begin. In our extensive Valentine's leaflet you can find a complete overview of this new assortment. There is a suitable item for each target group! The leaflet opens in a new window.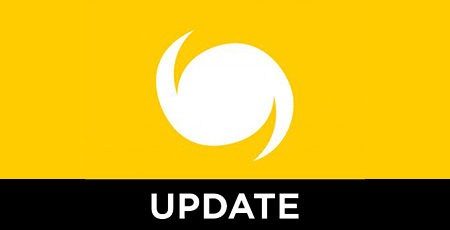 Koenpack Florida Facilities REOPENED
Miami – 12th September 2017
Florida Facilities will resume normal operating hours. At this time we are pleased to inform you that our premises are reopened. You can reach our offices at 305 513 3375 during business hours. Outgoing deliveries will resume as of Tuesday September 12th.

Thank you for your cooperation and patience. We wish everyone impacted by this powerful storm a safe and speedy transition back into everyday life.
Hurricane Irma Update
Miami – 11th September 2017
Florida Facilities will be closed on Monday September 11th. Florida Facilities will NOT reopen for shipping until further notice. Once damage from the impact of the storm can be determined, confirmation that outgoing shipments and operations can safely be resumed in South FL we'll be in touch with a new updated notice. Our thoughts and best wishes are with all of our associates, customers and partners in Florida, Georgia and South Carolina during this time of significant danger and recovery.

We are here to serve you:
East Coast Sales will be handled temporarily by our Canada office.
Please contact sales-canada@koenpack.com / 905 643-5300.
West Coast Sales continues to operate normal hours.
Please contact: Danielle Delano d.delano@koenpack.com/ 442 204-2339.

At this time it is too early to tell the extent of the delay due to damages and outages but we will forward additional information as it becomes available. Thank you for your cooperation and patience. Our goal is to keep delays to a minimum while operating in a safe manner protecting our associates and customers! Be safe in these conditions and please keep monitoring our website.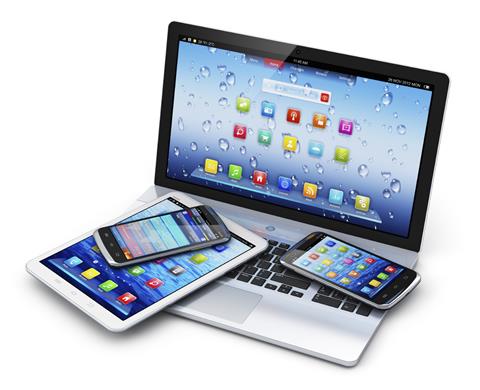 New website online
Amstelveen – 5th September 2017
Today Koen Pack's completely new website and webshop is online. The website has been developed by Koen Pack and has a complete new look. Very clear and informative. New is the responsive web design, which makes the web site/shop accessible from all types of devices. From iPad and tablet to laptop and from smartphone to desktop. It works on all devices with the same access code. The search function within the web shop has also been renewed and improved. If you are looking for a flower or plant sleeve in a certain color it's very easy. Ideal when you are searching for a Holiday or Seasonal package. Create your favorites and view your own designs online. You can also create collections for resale to offer your customers. The features within the web shop have been much improved and there is a link with the Koen Pack app. If you are logged in, you will see your shopping cart and product availability on your own secure page.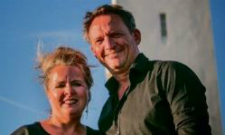 Interview Bloemenkrant
Amstelveen – 13th June 2017
"It was his dream to start for himself and in 1996 Koen and Cristol Broekhuizen started their business. Very small with the baby room of their home as their office. Now Koen Pack BV is the market leader in packaging for flowers and plants. Besides the company in Amstelveen, we also have offices in Florida, California, Canada, Colombia, Ecuador and Kenya."
Read the follow-up to the interview with Koen and Cristol in bloemenkrant.nl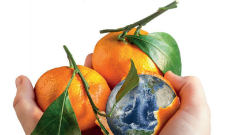 Welcome to the Future: FTA's vision for 2030
Amstelveen – 1st May 2017
"The world as we know it is changing, which means it's time to rethink and reimagine the future. We want to create a world where all trade delivers social, environmental and economic benefits for everyone" FTA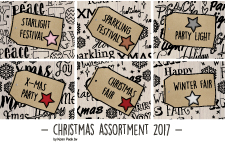 Christmas 2017
Amstelveen – 10th April 2017
The Koen Pack Christmas assortment is available. All new Christmas products, developed according to the latest trends, are all in the Christmas leaflet of 2017. This year we present new sheets, sleeves and special picks that will make the Christmas presents so much more exciting. Click on the image for the complete assortment (opens in .PDF).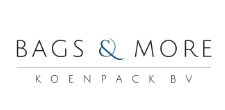 Koen Pack launches KP Bags & More
Amstelveen – February 3th, 2017
The wait is over! KP Bags & More officially opened its website on February 1st. In 2015, it became clear that more was possible with the expertise and scale of Koen Pack in the field of packaging. This further developed in 2016. Since KP Bags & More supplies various kinds customizable packaging and packaging materials to wholesale, retail and chain stores. KP Bags & More is responding to the ban on free plastic bags by January 1, 2016. Delivery reliability and service are highly valued and the price- performance ratio is excellent. At KP Bags & More you are at the right place for carrier bags, transport packaging, gift and tissue paper, gift packaging, decorative materials and supplies & More.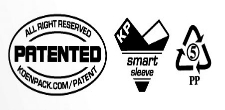 Smartsleeve Patent
Amstelveen – 2nd February 2017
We are proud to announce that Koen Pack received a patent on the Smartsleeves. A bouquet wrapped in a Smartsleeve has the look of a sleeve with a separate insert, but with the ease and speed of production of a regular sleeve. The two sheets are connected to each other and therefore cannot shift, this gives the flowers a very neat look. Koen Pack has various designs available, and the Smartsleeve can easily be customized for special orders. Click on the image for examples and ask your account manager.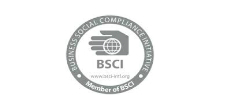 Good working conditions are highly valued at Koen Pack
Amstelveen – 2nd January 2017
Since January 1, 2017, Koen Pack has become a member of the BSCI program. BSCI is an initiative of the Foreign Trade Association (FTA) and stands for Business Social Compliance Initiative. The initiative was established to improve working conditions among others in the supply chain worldwide. We think equal and good working conditions for everyone are important in our supply chain. In consultation with our producers in e.g. Kenya, China, Vietnam and Myanmar, we ensure that the working condition requirements are met.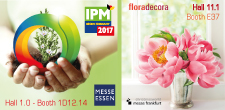 You will find us at the following spring fairs in 2017:
IPM
- Essen, Germany - 24-27th January 2017 - Hall 1 Booth D12.14
Floradecora
- Frankfurt am Main, Germany - 27-31st January 2017 - Hall 11.1 Booth E37
TPIE show
- Fort Lauderdale, Florida USA - 18-20st January 2017
HortiContact
- Gorinchem, The Netherlands - 14-16th February 2017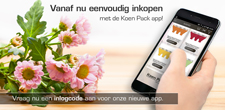 Introduction Koen Pack app
Amstelveen – 2nd November 2016
During the FloraHolland Trade Fair Koen Pack launches a new app that allows customers to view and purchase the complete range of products. In this app you can find sleeves, sheets, picks, bouquet holders, bags, pots and much more to give flowers and plants added value.
Besides the very user-friendly website and webshop Koen Pack has now decided to make it even easier for their customers. With this app it is easy to see customized stock and to order collection items. By using filters for seasonal products or colours searching a product is simplified. This app can be downloaded from the AppStore for
Iphone
and
Google Play for Android phones.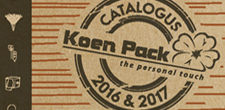 New catalogue 2016-2017
Amstelveen – 28 oktober 2016
Our new catalogue, with the latest trends and colours bouquet sleeves, sheets and wraps made of various materials, theme-picks, bags and boxes, plant packaging and accessories can be
downloaded.
from our website now.
If you would like to receive a printed version, you can always send us an email with your request to
sales@koenpack.com
. If there is anything you like, we have samples available for you in our sample room. Also our fully restyled showroom is ready for your visit!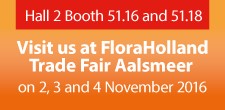 FloraHolland Trade Fair 2016
Amstelveen – September 2016
We will be exhibiting on the annual FloraHolland Trade Fair in Aalsmeer from 2-4 November, Hall 2 Booth 51.16 and 51.18. We are celebrating and we will surprise you with something magical. Come and find out what it is and you will be rewarded.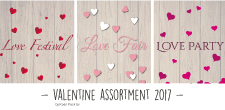 New assortment for Valentine 2017
Amstelveen – September 2016
Our new Valentine assortment with theme Love Festival, Fair and Party is clearly displayed in our latest leaflet. Sleeves, sheets and decorations add extra value to your flowers and plants. Samples will be available soon.

Koen Pack celebrates 20th anniversary
Amstelveen – 18th May 2016
In 1996, the founders of Koen Pack BV, Koen and Cristol Broekhuizen, started in Uithoorn, the Netherlands. Below is an interview with Koen Broekhuizen about the 20th anniversary of Koen Pack BV in the Netherlands, 15 years in the USA, 10 years in Colombia and 5 years in Canada.