Frequently asked questions about sustainability
Circular and sustainable packaging, what exactly are they? And what does that mean for you as a grower, florist, wholesaler or exporter?
View the answers to some frequently asked questions below.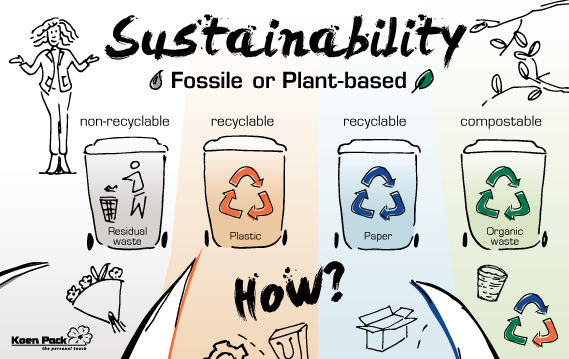 The production of articles that are less harmful to the environment has a price tag. This makes sense because over the past 30-40 years the cheapest possible packaging have been developed for which the cheapest raw materials are used. All production processes are set up to get as much output as possible. It also depends on the quantity and material. The moment smaller quantities are produced from more expensive raw materials, the article becomes more expensive for several reasons:
- More expensive raw materials (depending on supply and demand)
- More expensive production processes.
Mail us at
sales-usa@koenpack.com
to ask for an offer.
What does Koen Pack itself do about sustainable and circular?
Our customers are thinking about switching to more sustainable packaging. Koen Pack has been going through this transition much longer ... because we care!
Check out the latest developments>>

What about the certification for the materials?
Seedling logo
We have a Seedling logo certificate for PLA.
Check the certificate here >>
FSC
All items made of wood originate from a forest. How can we be sure that the trees have been cut down in the legal manner and that the logging has not caused overexploitation of the forest? By buying timber with the FSC label, you can be sure that logging has been done in a responsible manner, without jeopardizing local biodiversity and respecting the rights of the local population and forest workers.
This is why it's possible in Europe to use our FSC certificate for many of our wooden picks and paper sleeves.

These logos ensure awareness/change of mentality, correct waste separation (waste streams - view our image) is the basis on which we as a supplier and you as a customer can exert influence.