Welcome on our pages about sustainability
When it comes to flower- and plant packaging, Koen Pack has set itself the goal of informing our customers about the different ways to deal with sustainability.

Koen Pack is an experienced supplier in the field of flower- and plant packaging and accessories. You cannot open a newspaper or trade magazine or people are talking about packaging and the impact on the environment. From our experience in the market and questions from our customers, we know that there is a lot of confusion about alternative materials. Koen Pack is your partner in discovering options when considering a switch towards sustainable packaging.

You can repeatedly expect messages via social media, trade journals and advertisements because we want to properly inform and advise customers in preparation for a possible switch to sustainable packaging;

On the following pages you will find a lot of information and we also offer the option to request a Sample book. Our unique Sample Book will inform you well when making decisions.

Of course we are also happy to personally help you to answer your questions, consult the FAQ page or contact us directly.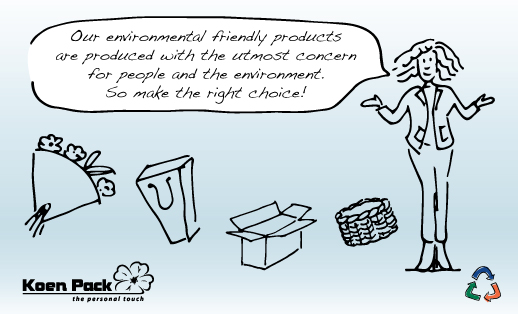 What does sustainability mean?
And when is your company sustainable? Do you only count if you have a roof full of solar panels and an electric car? Or can you start eating vegetable food much better to be able to label yourself as sustainable?

More and more people, companies and politicians are working on sustainability but each in different ways. Acting sustainable is not just cutting down trees, but also replanting. Sustainability is ensuring that products last longer, are recyclable and have no, or less impact on the environment. Perhaps there is not a proper definition of sustainability, but it is clear that we all have to do something. No matter how small your steps are, by opting for more environmental friendly packaging, we all contribute to a better world.

Do you want to see immediately which packaging we offer? Please look at our webshop or read more about the difference between paper and plastic.



Quick links to other pages
Sustainable packaging and the difference between organic and compostable
Koen Pack Waste policy and processing techniques
The environmental impact of packaging, do you opt for paper or plastic?
To the webshop
Request Sample Book
Frequently Asked Questions
What does Koen Pack do itself?
Dictionary Sustainability