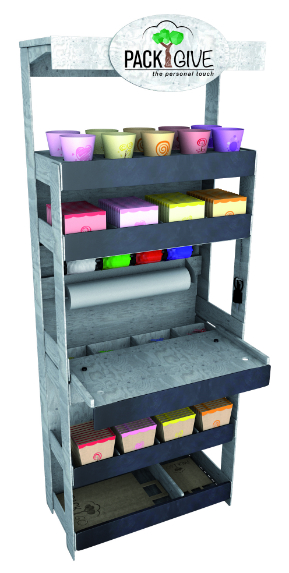 Pack & Give®
The title says it all. Pack and give it away! To pack and perk up a plant to give away as a gift. Isn't that nice?!
Display
We have responded to the trend to want to 'customize' everything, to decorate plants with a 'Personal Touch'. Koen Pack provides the ability to deliver an all in one package, so your customers can wrap their purchase to taste, just "Pack & Give"! The display is supplied with a pair of scissors, tape, a stylus, a foil roll holder 60cm, a ribbon roll holder and a tape roll holder. The concept, Pack & Give has a natural appearance. In this sense we try to keep the plant or flower in its value as much as possible. In order to make it complete we have created designs that meet this idea completely. It is possible to offer potcovers and gift bags in different designs. Additionally Koen Pack gives you the ability to offer a matching packaging line for flowers. It is also possible to give a packaging line your own personal touch, e.g. by implementing your logo and text, but also in material we have several options.
"An innovative idea with added value which gives flowers and plants a sales boost."
Benefits:
A unique concept
Options for each customer
Added value for flowers and plants

Because it has castor wheels, it can easily be set in the right place
The content is easy to order


Pack & Give® contains:
1x Z99000 Pack & Give Display 80x40x225cm
1x W.2203 Vario wallmodel roll dispenser 60cm
1x W.2209 Vario wallmodel ribbon dispenser for 4 rolls
1x W.2207 Vario tape dispenser


To order separately:
1x40 Small carrybags 22x10x28cm
1x40 Big carrybags 32x15x43cm
4x40 Gift bags 17/13x11/11x20cm
4x30 Gift bags 16x16cm
10x5 Potcovers Ø12cm or 10x10 Potcovers Ø10.5cm
4x30 Decorative Picks to your own choice
1 roll of foil 60cm x 1000m transparent
4 rolls of ribbon 10mm x 250m


Specifications:
A wooden display 80x40x225cm
A sliding worksheet
A divider under the worktop
A chalkboard for price display (price notation)
Includes a waste bin
On castor wheels
Delivery time to be determined. Are you interested or do you have any questions? Download the colour leaflet and feel free to contact one of our account managers. You can send a e-mail with your questions to sales@koenpack.com.
This packaging concept is patented and the trademark application was published on February 4, 2015.