Social Corporate Responsibility
Since January 1, 2017, Koen Pack has become a member of the BSCI program. BSCI is an initiative of the Foreign Trade Association (FTA) and stands for Business Social Compliance Initiative. The initiative was established to improve working conditions among others in the supply chain worldwide. We think equal and good working conditions for everyone are important in our supply chain. In consultation with our producers in e.g. Kenya, China, Vietnam and Myanmar, we ensure that the working condition requirements are met. Koen Pack has been following the Sedex program for several years, in this program good working conditions are also ensured. Sedex is a nonprofit organization, working to improve corporate ethics and responsibility. BSCI participants and vendors attend training on different themes as described in the 11 principles.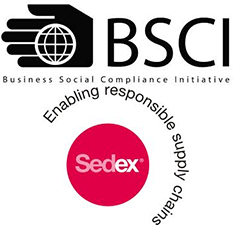 The 11 principles of the BSCI
BSCI is committed to global improvement of working conditions in the production chain of its members according to eleven principles. This includes ensuring equal opportunities for employees, risk assessments, corporate social responsibility policy, freedom of association, special protection of young workers, combating child and forced labor, paying fair compensation and facilities for a safe and healthy workplace. More information can be found in
The Code of Conduct.

Sedex
The Supplier Ethical Data Exchange, empowers sustainable and ethical supply chains, is a not for profit membership organization dedicated to driving improvements in responsible and ethical business practices in global supply chains. The goal is a secure, online database that offers members the ability to store information, share and report on four key areas: Labour, Health & Safety, Environmental and Business Ethics. Koen Pack is connected with www.sedexglobal.com since 2013.

ETI
Koen Pack works according to the regulations of the Ethical Trading Initiative (ETI). The Ethical Trading Initiative (ETI) is a leading alliance of companies, trade unions and NGOs that promotes respect for workers' rights around the globe. Our vision is a world where all workers are free from exploitation and discrimination and enjoy conditions of freedom, security and equity, see
www.ethicaltrade.org
.
In Colombia Koen Pack has an ISO-14001 Certification, because using an environmental management system according to the ISO 14001 standard, the environmental risks of the operations are controlled and if possible reduced.
Here you will find a list of all certificates.
Would you like more information about this? Please send an e-mail with your question to
info@koenpack.com
.